Natural Cork - Sunrise Wash
Available in 3 sizes.
Natural Cork - Peroxide Wash
Available in 3 sizes.
Agglomerated Cork - Chamfered
Available in 2 sizes.
Natural Cork - Meta Wash
Available in 3 sizes.
Micro Agglomerate Cork
Available in CLASS, IN-NOVA and Belgian Beer closures.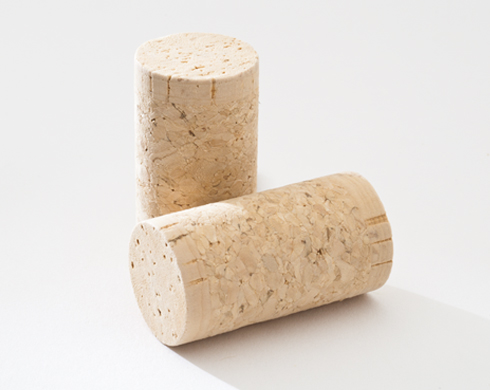 1 + 1 Cork
Available in 4 qualities and 1 size.
Colmated Cork
Bulp Top Closure
Bar Top Closure
our

cork products
The unique organic properties and sustainability of cork make it an ideal choice for wine closure. The Lafitte Cork line produces a range of natural, agglomerated, colmated or bartop cork stoppers that are customized to suit your specific preferences and the aging qualities of your wine. Our experienced sales team works in partnership with you to select the highest quality cork product to best meet your needs.
Natural Cork Natural corks of the highest grade, made from only the best quality cork oak and subjected to rigorous quality control to ensure top performance.
Features:
All natural product

Recommended for long term cellaring

Enhance your customer's perception of your brand

Also available for 3L, 6L and 9L bottles

Multiple grades available
Standard Dimensions:
Diameter: 24mm
Length: 45mm/49mm/54mm
These stoppers are made from natural cork that has pores filled with natural cork by-products and binders in order to create a smooth, visually aesthetic looking stopper.
Features:
Economical option

High grade visual look

Ideal for faster turnover wines

Branding options available
Standard Dimensions:
Diameter: 24mm
Length: 45mm
A natural cork stopper with a plastic disc top designed for easy removal and re-use. The bar top is generally used for bottling fine spirits and is available in both natural and colmated cork options.
Features:
Natural or Colmated Cork shank

Top disc embossing

Gilded

Custom dimensions

Ideal for ancillary non-wine products

Ideal for uses where multiple reinsertions are necessary
Stock Standard Dimensions:
Black Plastic Disc Diameter: 29mm
Height: 9mm
Natural Cork Diameter: 20mm
Length: 27mm
This stopper is made with natural cork discs at each end of an agglomerated cork constructed of natural cork granules.
Features:
Natural appearance

Economical alternative to natural cork

Ideal solution for faster turnover products

Excellent sealing characteristics

Easy extraction

Branding options available
Standard Dimensions:
Diameter: 23.5mm
Length: 45mm
A perfectly balanced system from Lafitte offering two high performance products, the CLASS and the IN-NOVA. Both products benefit from the revolutionary MAXCLEAN System®.
Features:
Precision – Individual molding offers noteworthy physical and mechanical properties.

Security – Introducing the MAXCLEAN System; a cutting edge sterilization and deodorization technology to eliminate TCA.

Traceability – Manufactured using granulate sourced from the production of our natural cork closures.

Economical – A natural cork product engineered to lower your bottom line!
Standard Dimensions:
Diameter: 24mm
Length: 44mm
Bezel: IN-NOVA 1mm / CLASS 3mm
Wine's discreet guardian
Like wine making, cork production is a meticulous art form. Many vital measures are involved in the transformation of cork oak bark into high quality wine cork stoppers. Lafitte is continually striving to improve the quality of our wine cork production using the latest available research.